ARTINSIGHTgalleries Rundgänge zur BERLIN ART WEEK 2014
18.07.2014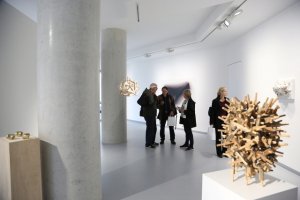 Rundgang & Führungen durch die Galeriequartiere Berlins:   19. - 21. September 2014 
Art walk with guided tours through the gallery districts of Berlin 
Im Gespräch mit Künstlern und Galeristen – ein faszinierender Einblick in die Kunstmetropole Berlin. 
In dialogue with artists and galerists – a fascinating insight into the art metropolis Berlin.   
ARTINSIGHT galleries bietet Kunstreisenden die Möglichkeit eines fachkundig moderierten Zugangs zur Berliner Galerienszene, mit ihrer spannenden Mischung aus traditionsreichen Berliner Galerien, projektorientierten Newcomern und internationalen Galeriedependancen. 
ARTINSIGHT –   art walk with special guided tours through Berlin's galleries in the art metropole's most lively art districts, offered by the Galleries Association of Berlin (lvbg) during BERLIN ART WEEK. 
Fachkundige Führungen durch die Galeriequartiere Charlottenburg-Wilmersdorf, Friedrichshain-Kreuzberg, Mitte, Schöneberg-Tiergarten. Guided tours into Berlins famous gallery districts. Shuttle Service. 
Fr, 19.09.2013, 14.00 Uhr |Tours 2 - 5 pm 
Sa, 20.09.2013, 14.00 Uhr   und 17.00 Uhr   | Tours 2 - 5 pm, 5 – 8 pm 
So, 21.09.2013, 14.00 Uhr | Tours 2 – 5 pm 
Dauer je 2-3 Stunden. Treffpunkt im jeweiligen Galerie-Quartier wird bei Buchung bekannt gegeben. Teilnehmerzahl pro Führung 12-16 Personen. Tickets ab 22 Euro. | Duration 2-3 hours. Meeting point to be announced with booking confirmation. Tickets from 22 €. 
Verlängerte Öffnungszeiten in den ARTINSIGHT-Galerien | Extended opening hours: 
Fr, 20.09. und Sa, 19.09.2014, 11.00 – 20.00 Uhr | Fr/Sa opening hours 11 am – 8 pm 
So, 21.09.2013, 11.00 – 18.00 Uhr | Sun opening hours 11 am – 6 pm 
Info & Buchung/Info & Booking: 
Landesverband Berliner Galerien (lvbg) 
Mohrenstraße 63 
D-10117 Berlin 
T: +49 (0)30 3101 97 -14,   F: -15,   
lvbg@berliner-galerien.de
Galleries Association
of Berlin (LVBG)
Kalckreuthstraße 15
10777 Berlin
Germany
lvbg@berliner-galerien.de
T: +49.30.310197–14
F: +49.30.310197–15
Board
Werner Tammen
(Chairman)
Andreas Herrmann
(Assisting Chairman)
Nana Poll
Honorary Presidents
Georg Nothelfer †
Eva Poll
Michael J. Wewerka
Sustaining Member
Froesch GmbH