Auktion 3000 zugunsten von Christoph Schlingensiefs Projekt Operndorf Afrika
24.02.2012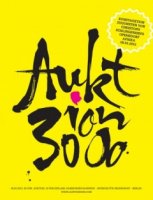 AUKTION 3000 
Art Auction at Hamburger Bahnhof in Aid of Christoph Schlingensief's Operndorf Afrika 
Auction, 8 March 2012, 8 pm (doors open at 7 pm) 
Preview: 24 February – 4 March 2012 
Christoph Schlingensief worked on the idea for the Operndorf Afrika (Opera Village Africa) from 2008 onwards. He conceived it as a place for intercultural encounters and experiments, as well as an artistic reservoir for the future. The foundation stone was laid in spring 2010, and recently the elementary school in the opera village near Burkina Faso's capital Ouagadougou was opened. In 2012, further construction is to be realised as part of this project, financed largely through private donations and sponsorship monies. 
An art auction will now help the Operndorf Afrika to grow. On 8 March 2012, AUKTION 3000 will take place at Hamburger Bahnhof Berlin, with Peter Raue acting as host and auctioneer. Numerous internationally renowned artists have already donated works for this fundraiser, among them Marina Abramovic, Pipilotti Rist, Georg Baselitz, Christo, Olafur Eliasson, Andreas Gursky, Wolfgang Tillmans, and Günther Uecker. 
The auction does not just unite the many supporters of an ideal, it is also a testimony to close friendships. Matthew Barney, for example, whose work greatly impressed Christoph Schlingensief in many respects and whom he met several times, is supporting the auction with a photograph from the Cremaster cycle. Patti Smith, a friend of Christoph Schlingensief for many years, donated a drawing that that she made in the summer of 2010 during a joint exhibition at Galerie Sonja Junkers; the drawing has a personal dedication to her friend. Additional well-known personalities from the art world, such as Klaus Biesenbach (MoMA, New York) and Chris Dercon (Director Tate Modern, London) support the project Operndorf Afrika and the auction. 
From 24 February to 4 March 2012, all works will be exhibited at Hamburger Bahnhof. Information about the conditions of the auction, as well as how to submit bids in writing or by telephone, is also available on this website. There will be a catalogue for the auction. 
Hamburger Bahnhof - Museum für Gegenwart - Berlin 
Invalidenstraße 50-51 
10557 Berlin 
Galleries Association
of Berlin (LVBG)
Kalckreuthstraße 15
10777 Berlin
Germany
lvbg@berliner-galerien.de
T: +49.30.310197–14
F: +49.30.310197–15
Board
Werner Tammen
(Chairman)
Andreas Herrmann
(Assisting Chairman)
Nana Poll
Honorary Presidents
Georg Nothelfer †
Eva Poll
Michael J. Wewerka
Sustaining Member
Froesch GmbH