Verrückt in den Frühling mit BERLINER KUNSTKONTAKTER!
21.03.2011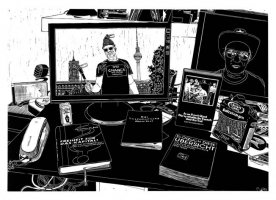 Eröffnung der Jubiläumsschau 
SHADOWS OF THE BRIGHT 
am 
25.3.2011 um 19 Uhr 
im 
SHOWROOM der Galerie BERLIN ART PROJECTS 
Unter den Linden 40 
anlässlich des 5-jährigen Bestehens von 
BERLINER KUNSTKONTAKTER! 
Ausstellungsdauer: bis 17. April 2011. 
Die Blockbuster-Schau läuft bis zum 17. April 2011 und vereinigt 52 Kunstwerke aus den Bereichen Malerei, Photographie, Skulptur und Performance Art. Ca. 70% aller gezeigten Werke wurden extra für diese Ausstellung geschaffen und verweisen in beispielloser Art auf die Popularität von Konstantin Schneider, der sich seit 2006 weit über Berlins Stadtgrenzen hinaus als die Kunstfigur BERLINER KUNSTKONTAKTER einen Namen machte und dafür 2009 von db-artmag zum "populärsten Blogger der deutschen Hauptstadt" gekürt wurde. 
SHADOWS OF THE BRIGHT - KÜNSTLER DER AUSSTELLUNG: 
ADLER A.F., JIM AVIGNON, THORSTEN BRINKMANN, MIMMO CATANIA, VERA CHAVES BARCELLOS, JAMES CLANCY, MANUELA COVINI, ALDO CRISTOFARO, KINGA DUNIKOWSKA, NEZAKET EKICI, BORIS ELDAGSEN, EMESS, FREDERIK FOERT, MARTINA GOLDBECK, GABRIELE HEIDECKER, PHILIPP HENNEVOGL, ALI KEPENEK, VIA LEWANDOWSKY, DESTIL MARKOVIC, VOLKER MAERZ, HARDING MEYER, JUNE NEWTON, ROLF OHST, FLORIAN PELKA, WOLFGANG PETRICK, STEFAN ROLOFF, CHRISTIAN ROTHMANN, RÖMER+RÖMER, EIKO SABELA, MAIKE SANDER, CORNELIA SCHLEIME, MORITZ SCHLEIME, KONSTANTIN SCHNEIDER, MARTIN SCHNEIDER-HILLEN, SEBASTIAN SCHRADER, SEO, JOHANNA SMIATEK, BOSCO SODI, TORSTEN SOLIN, JAN SOBOTTKA, CHRISTIANE SPATT, KAREN STUKE, MARC TASCHOWSKY, IVA VACHEVA, GOETZ VALIEN, SENCER VARDAMAN, PETER WEIBEL, SABINE WILD, TINA WINKHAUS, MARKUS WIRTHMANN, ROLAND WIRTZ, MARCUS WITTMERS, HENRY WOLLER. 
Der LVBG gratuliert!!!
Galleries Association
of Berlin (LVBG)
Kalckreuthstraße 15
10777 Berlin
Germany
lvbg@berliner-galerien.de
T: +49.30.310197–14
F: +49.30.310197–15
Board
Werner Tammen
(Chairman)
Andreas Herrmann
(Assisting Chairman)
Nana Poll
Honorary Presidents
Georg Nothelfer †
Eva Poll
Michael J. Wewerka
Sustaining Member
Froesch GmbH