Still a periphery or closer to the center? - Art Market Budapest 2014
11.10.2014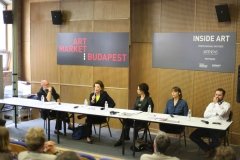 Chances of eastern european galleries to succeed on the international market. 
INSIDE ART BUDAPEST presents: 
Nancy G. BRINKER - art collector; Former U.S. Chief of Protocol; Founder of Susan G. Komen for the Cure; Former U.S. Ambassador to Hungary. 
Annamaria MOLNAR - Board Member Talking Galleries Barcelona Symposium; Owner Molnar Ani Gallery. 
Tomas UMRIAN - Director SODA Gallery, Bratislava-San Francisco. 
Anemone VOSTELL - Managing Director Galleries Association of Berlin (lvbg). 
Valueing the inter-national stars at the panel of Art Market Budapest 2014, October 9th.
Galleries Association
of Berlin (LVBG)
Kalckreuthstraße 15
10777 Berlin
Germany
lvbg@berliner-galerien.de
T: +49.30.310197–14
F: +49.30.310197–15
Board
Werner Tammen
(Chairman)
Andreas Herrmann
(Assisting Chairman)
Nana Poll
Honorary Presidents
Georg Nothelfer †
Eva Poll
Michael J. Wewerka
Sustaining Member
Froesch GmbH